The Hammonds' And The Pink Lady
Eric Hammond Writes:-
We thought this might be of interest.My wife Jenny and I with Jessica Watson's Pink Lady in the back ground after she arrived back in Sydney.

Although it was a calm day, it was bobbing around, just imagine it on the high seas in a fierce storm.I know it wouldn't be me doing it!!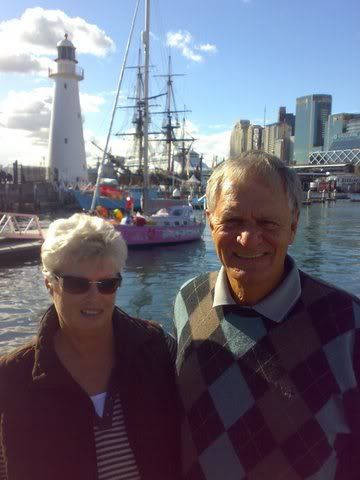 Footnote by ORAFs
ORAFs believes Eric attested with 2 LAR in August 1956 and left at the break-up of the Federation in December 1963

I have also attached a bit on Jessica's achievement:-
Sixteen-year-old Jessica Watson has spent the past seven months in a self-imposed solitary confinement of sorts.

For 210 days, the avid sailor skippered her 34-foot yacht, the Pink Lady, around the world, a feat few others, let alone teenagers, have accomplished.


But on Saturday afternoon, her solo trip ended in dramatic fashion as tens of thousands of cheering spectators and hundreds of boats turned out to welcome her home to Australia's Sydney Harbor, according to CNN affiliate Nine News.

"I haven't seen a person for almost seven months and suddenly there's just people everywhere -- you know, faces, so much color, so much noise, so much everything," she told a news conference. "All I've seen for so long is empty waves, so it was amazing and very overwhelming. At the same time, I achieved what I set out to."

That achievement -- her team claims she's the youngest person to sail solo, nonstop and unassisted around the world -- is not without controversy.

Visit
http://edition.cnn.com/2010/WORLD/asiapcf/05/15/australia.global.sail/index.html?eref=rss_world&utm_source=feedburner&utm_medium=feed&utm_campaign=Feed:+rss/cnn_world+(RSS:+World)&utm_content=Google+International

Thanks to Eric and Jenny for sharing their memories with ORAFs.