Johnny Green Visits Tete
July 2010
As you are aware I do a lot of travelling into darkest Africa these days being Malawi , Tanzania and now lately Mozambique. My work these days is in the consultancy business primarily in Hydraulics and Pneumatics. I have been doing this for a few years now and really enjoy doing it all ,and even with the travelling to the different African countries, I find them all so responsive towards me, and they are always chuffed to see me , and show me where their problems are. They are all very keen to learn about all the different aspects and upgrades of their equipment and take everything in that you report on.
However my good friend Bob Manser contacted me and mentioned to me that Tete in Mozambique was a buzz with the discovery of very large coal deposits being found in the area and it would be easy to mine as it would all be open cast mining [ apparently the biggest deposits found in the world . ] He informed me that everybody and his dog was descending on the Tete area to get a bit of the happenings there, and they were all from RSA /Australia/Zimbabwe etc. He told to get my butt up there, and to find out what was going on in the area before it was too late.
I had always intended to go to Tete , as a new Tobacco Co was set up a few years ago by Universal Tobacco Co. This was because I had been dealing with the tobacco industries in both Malawi and Tanzania and generally had leant a lot about the this industry ,and knew this was happening. So I decided to make contact with the tobacco co there , and let them know I was coming to see them rather sooner than later .My next problem was where in the hell was I going to stay in a place like Tete! However Bob came to my rescue and said he had a very good friend Donald Charles who lived up there operating a very good trading business and was well set up in the place. with a Partner being Peter Bekker's son Brendon, Peter being in the Air Force with us all. Donald offered to put me up at his place, and he would show me what goes on in Tete.
I duly booked my air ticket to Tete via Maputo and had a stop over there to see what happens , capitalizing on the stop over and visiting the aluminium smelter Mozal, Maputo is a bit of a dive! too many cars and funny people , although a good taxi driver I had, who knew a bit of kitchen k and did not rip me off. I had really good food at the Hotel where I stayed, Rock Cod Portuguese style, was great. Very nice Hotel called the VIP they collected me from the airport and took me back the next day a real bonus.
Had a very good experience flying with LAM Mozambique airlines Boeing 737 200 series ,most impressed ,no reverse thrust on landing cool and calm good old Portuguese style! On embarking and collection of my case a bun fight insured as there was only one conveyor that came to a dead end with little space for any body to operate in, and one Italian oke unloading everybody cases waiting for his to come, I think his came last ! I met up with Donald and finally got out of the place. We had to cross the Zambezi river by a bass boat to Don's house [pozzi ] as the suspension bridge was being repaired ,and only allowed traffic across it ,on one side of the bridge as the cables were being repaired one side only , this has been going on for a year, some trucks wait totalling 70 odd per side, which takes sometimes 4 days to cross over to the other side. However another bridge is being built down steam to accommodate this expected boom of industry ,together with a new railway line ,and road from Beira, they are also looking at dredging of the Zambezi river to put barges on it for transportation of coal down the river.
The most amazing thing is Bob decided to drive up from Chimoi 400km's away to stay with me for two days, at Donald's place so we could all have a good get together. That evening we went off to the local pub amongst the shanty town shacks of Tete called the "Why Not" for supper and drinks, and lo and behold who should we meet there but Peter Bekker and his wife Bev who had just left Malawi on their way back to live in Marendellas Zimbabwe and to catch up with their son Brendon who lives in Moz, he could not believe seeing me there! The game was on with all the old times etc. Donald and his wife and in-laws are all Zimbabwean's and there were a lot of other ones I met there as well. I happened to mention Neville Mare's name to someone, and this lovely young girl came up to me and said I know you ,I stood back dumb founded as I did not know who she was, and was so happy to know finally she was the late Joe Cameron's daughter Caren who lives there, she has twin son's who have just recently played in the Craven week boys rugby in Cape Town. This was very special for me as Joe and myself had great respect for one another when we were together in the Air Force, and she of course was a very young girl then. Her husband Bryan Moodie is huge, no wonder their boys are rugby players! We all had a nice evening and all the cervejos that went with it.[ The pictures taken in the pub were of Peter Bekker, myself, Bob Manser , Peter's son Brendon, and just the head of Donald Charles peeping in at the back]
Donald organized our accommodation in his guest house on the banks of the Zambezi river ,in the outback of his property, we had a generator or three for electricity , as they tended to stop every now and then. The generators had to function to have any water to operate the shower, and the toilet, due to a pressure switch being installed in the water reservoir system. So if you needed to go to the loo you had to turn the generator on!! this also to clean your teeth. Our bedding facility was two mattresses on the newly laid concrete floor and one blanket each, next to each other. The Mozzies (mosquitoes) were kept at bay with SA Doom spray and it was very dark, however Bob and I had some good long night chats of the past and who was a big puss , and not! until we fell asleep to the sound of the Zambezi river flowing past us , we then were served with tea in the morning by Don. With magnificent sun rises in the morning over the Zambezi river, some 3 kms wide at this point..
Donald and his wife Nettie were most Hospitable and went out of their way to help me with anything that I needed, I saw my tobacco associates with the aid of Don's Jeep and business went very well there. They went out of their way to let me know what was happening in and around the Tete area , and even took me running with their friends , and I met more people I knew amazing. The next time I go up, I will do some fishing with Don , as he loves fishing, lots of tiger there , 5 kg mother's.
Photo's Next to Donald's other boat Self ,Bob Manser , Donald Charles , and Brendon Bekker. Photo other Me arriving on the boat on day of arrival cases and all !
To Bob , your friends Don and Nettie I really enjoyed the great experience that I had with all of you ,on my visit to Tete Mozambique.
Thank you very much for all your efforts.
Johnny Green
Couple of photos from John and Bob
Johnny Green - Bob Manser - Donald Charles - Brendon Bekker
Johnny Green landing in Tete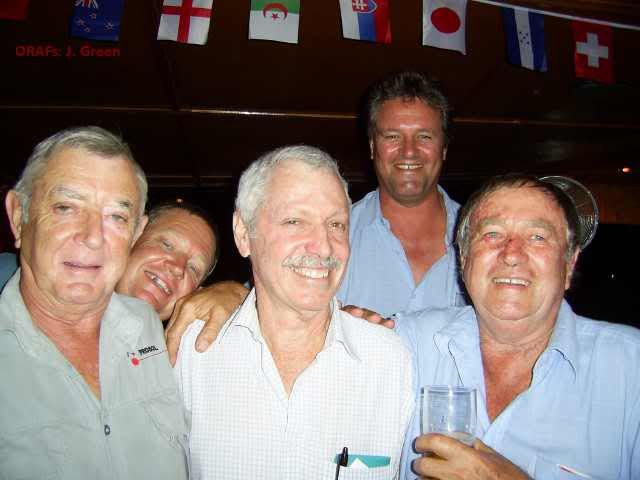 Party Time
Bob Manser - Donald Charles (just!)_ Johnny Green - Brendon and Pete Bekker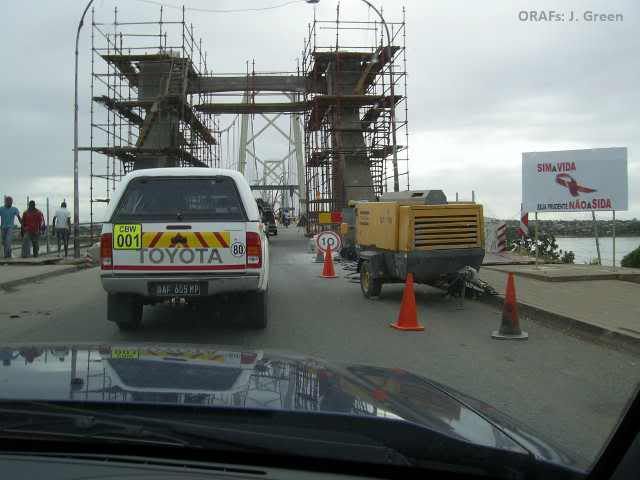 Suspension Bridge
Donald's Pozi
To assist you with remembering who is who in this zoo the following is advised
John was 13 LAR (August 1962)
Bob Manser was 16 LAR (January 1964)
Pete Bekker was 15 LAR (January 1964)
Thanks to Johnny for sharing his memories and photos with ORAFs.
Thanks to Bob for his photo and assistance
For those that do not know the word "Pozi" represents home
Labels: Bob Manser Donald Charles, Brendon Bekker, Johnny Green, Pete Bekker, Tete