ANZAC In Canberra 2012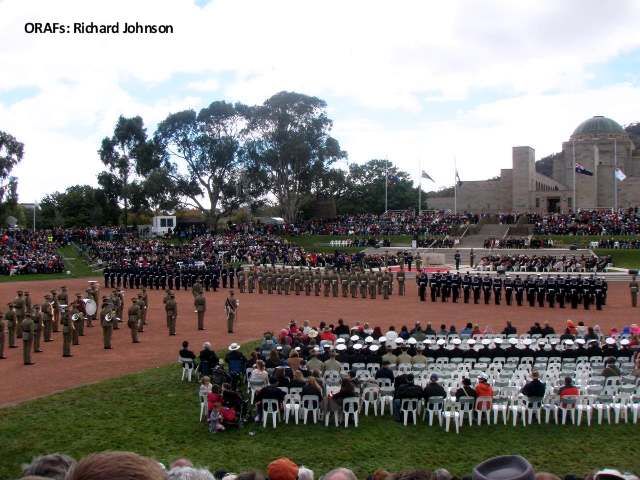 ANZAC In Canberra 2012
Australia and New Zealand Branch of the RLIRA
I arrived home just filled with happy memories from this wonderful ANZAC meeting of the RLI. We deeply missed our other members and our friends who had the parade in Coolum and hope they had a great success.
I have attached Diggers wonderful letter to us below and can only say we are eternally grateful to him and Sue for their commitment to this success. I personally feel honoured taking this role at this important meeting of the RLI. Through Digger we met Mickey Michaelis who has made us members of the RSL league and donated that wonderful banner. We also had the incredible assistance from Derek Roylance who got the ABC to make a mention of us when we passed the Diaz.
The most important was General Clunies Ross who was our guest speaker and most interesting. We do apologise to the General for the miscommunication for his wife missing the dinner.
Richard Johnson was the main organiser of this event when Digger was ill and he did a fantastic job. The next ANZAC will be in Brisbane and this will again be arranged by Granny.
Shaun and Annette Ryan were with us and Shaun kindly donated us our own colours. Fantastic.
Chris Cox sent us some pics and a DVD of Msodja. Thanks Chris, the presentation had some impact.
Simone Johnson did the photography and even tried to follow us around the parade area and was pulled up by the Gestapo.. Fantastic job, thanks.
Digger, Damien of 8RAR was a star as invited the RLI to their private function. We donated him and Mickey a set of wings and the RLI badge. Maybe you can send this email to him.
We also hijacked Sharon and Linda (apologies if names incorrect) to carry the banner and they were unreal. There was a time that wind nearly blew them over, but they got into that scrum position. Thanks ladies.
Please see a link to the march.
Here is another link with a few pics of the parade and they got me doing a chop to the Diaz. Not sure if forcing the gut out is compulsory!! Maybe the 2 shirts do not help.
Granny has just said though Perth has a great monument etc. the proximity of the Memorial, the hotel, the after drinks, the airport etc etc makes the Canberra ANZAC the best by far. All we missed were the rest of our buddies.
I am sure Hugh Bomford would like to know that Gerald Moffet did make an appearance at the after drinks.
Directly after the parade, the Zim Ambassador, Jacqueline Zwambila came up to us asking to meet. We had a great chat and a few pics. I am surprised Australia permits them to have reps here considering the way Bob treats this country and his track record. Anyway she seems to be the opposition party. This was a real nice touch but suggest the dinner may have created a few coughs during the slide show if she were present!!
We ask Ian McFarlane to use any of this data and pics for the write up for our branch in the Cheetah magazine and please feel free to put these on the web.
I do not have all the email addresses, but will ask Granny to send this on to all our members.
As promised, we will have an election for Chairman and Secretary for this branch and ask that these are in by 11th May 2012. I have stated that as I have been asked to stand again, I will do so, only with Richard as Treasurer and Secretary. Please send these nominations by your registered email only. Only members of this branch can vote and any new members must contact Richard for a form to complete which must also be acceptable to our EXCO. We do encourage all our members who served in the RLI, to look at this wonderful parade in Canberra and become productive and plan to make the next one in Brisbane. Sub Committees will be formed with heads in each state. Doug Paxton will handle Victoria, Granny Qld and Canberra.
This branch grows steadily in numbers. A short note for Ian which may be of interest, is within our membership, is now the 3 Swan brothers, all who served in the RLI from 1976 to the final parade, being Jimmy, Reg and Mark. (marched in the final) Our old man was Major John Swan and he had the hard task of managing the goffel units. I once ended up on a FF chopper deploy to a base and my Dad was there as OC with these guys. I saluted, as one would do and then quietly asked him to please reshape the beret as was sick as looked like a cooks hat!!
Please can all members also Contact Richard should they wish to join the RSL League. The cost is only $30.
All the best,
Jimmy Swan.
Richard kindly made these photographs available to ORAFs.