Bill and Jean Teague Wedding
Bill & Jean got married to-day (Nov 07) at 1 PM our time (Vancouver, Canada) !! It was a small private affair, and we plan to have a bigger bash for everybody sometime next year; we will keep you posted.....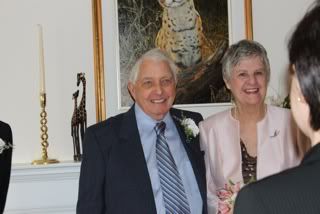 Love & hugs from us, Mr. & Mrs. Bill Teague.
End of Article.
ORAFs sends it love and best wishes to two special folk.
Thanks to Shumba for sharing this wonderful news with us all.
Bill and Ivan Holshausen were Course mates on Pilot Training in the South African Air Force, later Bill served with the Canadian Air Force and Ivan ventured North to join the Rhodesian Air Force.
Labels: Canadian Air Force, Holiday. Rhodesian Air Force, Teague, Vancouver