NZ Annual Get-To-Together ~ 2010
John (JP) Pringle (RhAF) Writes:-
Yesterday (Sunday 21st) saw yet another get-together of ORAFs in Auckland. Attendees were, in no particular order: Bob and Jann Hattle, Blake and Jane Few, John and Moya Michalakis, Pete and Viv Jameson, Ashley and Helen Stober, Dennis and Patricia Mawhinney, John and Bernie Pringle.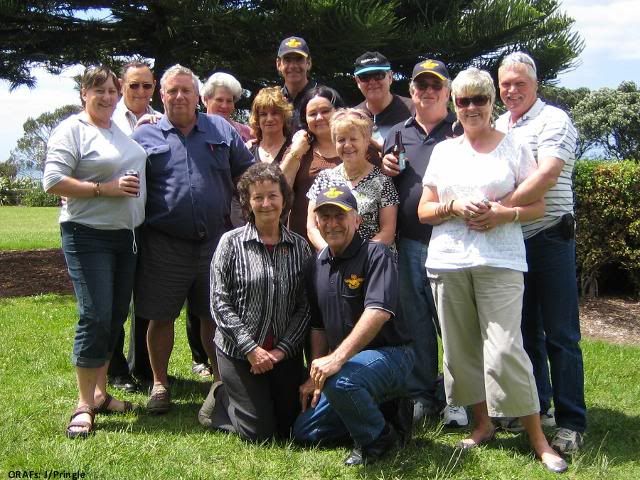 The weather prophet forecast rain however we invoked the spirit of Harvey Quail an once again the morning cloud dispersed and we enjoyed a fine, sunny day.
Plenty of beer disappeared, bags of steak and wors was cremated and many dubious stories were told. The venue, once again, was "The Command Post", an historic piece of Auckland's WWII defence installation. For something different we took thirty minutes out of drinking time and toured the recently re-opened tunnel complex between the gun emplacements. Tour guide was JP who felt this justified him having another beer during the photo shoot! Picture was taken by John Michalakis, skilfully using the camera timer function...
End
Many thanks to JP for sharing his memories with ORAFs.
To view the Blog Home Page - Please Click Here.
(Please visit our previous posts and archives)
Labels: 2010, Auckland, Berni Pringle, Blake Few (18 PTC), Hattle, Jameson, Kiwi, Mawhinney, Michalakis, New Zealand, Stober