Cape AFa March 2011 Bring 'n Braai
We had the pleasure of the company of the following Gentlemen who will be part-taking in the Argus cycle race this Sunday at the monthly Cape AFA last night.

Chris Bradshaw, Mike Mulligan, Alan Ferguson and Derek Mengel
.
(
Those that rode in the Cape Argus Cycle Tour on Sunday , 6 March, 2011)
Back: Tess du Toit - Penny Ness
Middle: Claire Jefferies - Marlene Micklewood and Maureen del la Rue
Front: Caretha Randall
.
Gents right at the back: Brian Daykin and Mick Dunwell (?) and spoiling our view
.
Back: Pete Honeywill, Geoff Simpson, Caretha Randall.
Front: Conrad Honeywill . (Glass of Diet Coke in Hand)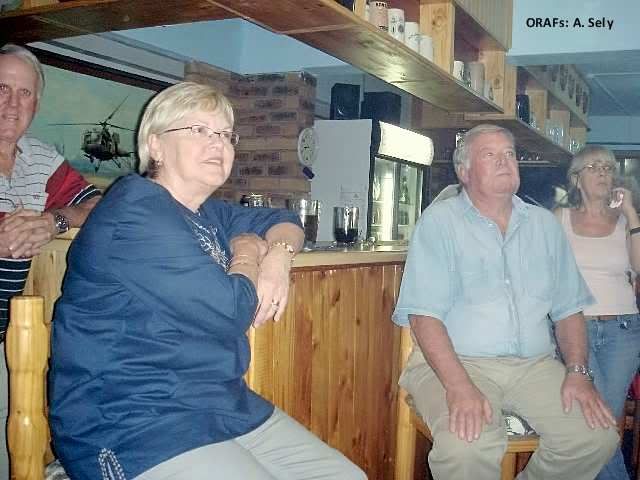 Mike Mulligan, Maureen de la Rue, Johnny Ness and Tess du Toit
Derek Mengel, Alan Ferguson. Des Ferguson and Jean Mengel
L to R
Tony Cowell, Brian Daykin, Johnny Ness, Mike Mulligan, Mike Dunwell and Peter Micklewood
Tess du Toit, Maureen de la Rue & Penny Ness
End
Thanks to Andre Sely (Cape ORAFs Photographer) for sharing his photos and memories with us.
Comments can be sent to Eddy Norris on
orafs11@gmail.com

To view the Blog Home Page - Please Click Here.
(Please visit our previous posts and archives)
Labels: Bradshaw, Daykin, Dunwell, Ferguson, Jefferies, Mengel, Micklewood, Mulligan, Ness, Randall