Ron and Lorna Williams Visit Oz
June Giles Writes:-
I thought it could be of interest for fellow friends to know that at 82 Ron is still travelling around the world. They stopped off to visit us, in March 2011, while spending 6 weeks in Oz. They are on their way to South Africa then on to Zim to visit more friends & hope to hire a house boat on Kariba.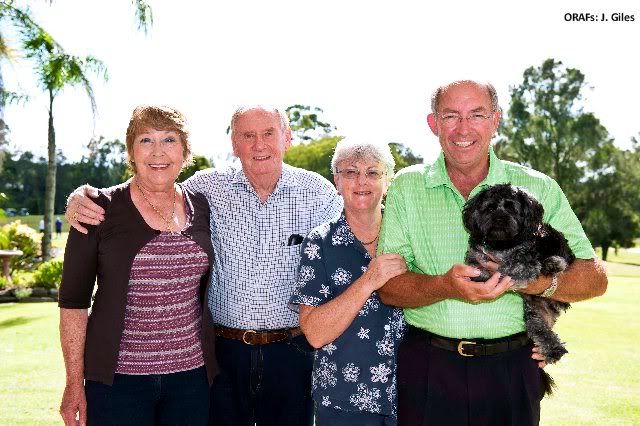 Lorna and Ron Williams - June and Hedley Giles with "Pooch."
They are both looking well & certainly proving one is never too old to want to catch up with old familiar faces around the world.
Good on them
Cheers June Giles
End of Message
Comment by Eddy Norris
Lorna and Ron reside in the United Kingdom.

Ron was a Direct Entry member of the Carpenters Shop and Hedley attested with 20 LAR (Photographer) in the Rhodesian Air Force.

Thanks to June for sharing her photo and memories with ORAFs.

Comments can be sent to Eddy Norris on orafs11@gmail.com

To view the Blog Home Page - Please Click Here.
(Please visit our previous posts and archives)
Labels: Giles. Williams, Rhodesian Air Force